2nd Sunday of Advent, Year B
Recording (will be available at https://jhm718.podbean.com)
Preached at Assumption Parish in Bellingham, WA
Previous Years: 2017
English
There are, in the Old Testament, a few passages that speak of the repentance of God – wherein God does something or threatens something and then, later, he appears to change course and remove his punishment or his threat. (List of passages here and here. Trustworthy theological exploration here.)
Of course, this is impossible. The nature of the one God who created all and sustains all, is perfection. In order for God to be the source of all things, God must possess within himself the fullness of existence. And this means that God cannot change, because change requires God to have had something which he now lacks, or to have lacked something which he now has. But God is infinite and perfect, never lacking anything ever. God cannot change, let alone change his mind. God does not experience emotion. He is infinite and unending love, all the time forever.
And yet, right there in the Bible, it says that God repented and changed. The first lines of our first reading are like this.
"Comfort, give comfort to my people, says your God. Speak tenderly to Jerusalem, and proclaim to her that her service is at an end, her guilt is expiated; indeed, she has received from the hand of the LORD double for all her sins."
This is, on its face, a schizophrenic passage. Jerusalem has been working in service, that is to say, in slavery to expiate her guilt. It was not uncommon in the ancient world to have to go into slavery to pay a debt. Her master, the Lord, has indeed given her double the punishment that was due for her sins. And yet, now that same Lord wants to give her comfort. He wants to make her promises of salvation, of glad tidings and good news. The image of the Lord has switched from a cruel master to a tender shepherd who gathers the lambs in his arms and leads the ewes with care. Understood to the extreme, it makes God seem cruel and manipulative.
---
So how do we explain this?
Well, an historical overview helps. Our first reading comes from the end of the first section of the Book of Isaiah, written in the 8th and 7th centuries B.C. Isaiah lived in the southern Kingdom of Judah and watched as Assyria, the emerging political power of the era, wiped out the northern Kingdom of Israel and even placed Jerusalem, the capital of the southern Kingdom, under siege. This prophecy is a prophecy of hope, acknowledging the pain suffered by Israel and Jerusalem and promising that God himself will come to save and comfort his people.
And yet, there is no escaping the fact that this passage, along with much of the Old Testament, ascribes not just the hope but also the preceding evils to the Lord. Why?
Well, from the 8th to the 6th centuries B.C., the Jewish religion, guided and inspired by the Lord, was solidifying in its monotheism. And the first and most basic tenant of having only one God is that this God is all-powerful and unchallenged. Meaning that, without now being able to ascribe good and evil to two different and competing gods, good and evil must both proceed from the same all-powerful God. The one God must be the agent of comfort and the arbiter of punishment. But the Jews also believed, based on their centuries of experience being the chosen people, that this all-powerful God was also a just God. So when bad things began to happen to the Jewish people, they believed that these bad things must come from God and that they must be an expression of justice. In other words, that everything bad must be a punishment from God for their sins. And yet, when good things began to happen again, this also must be from God. You can see how this problem would lead to the descriptions of God seemingly changing his mind.
As the Jewish religion continued to develop, this problem of evil and divine agency never really went away. The Gospels show that, even at the time of Jesus, the belief remained that disease or disability was God's punishment for personal sin. So when the Jewish religion was fulfilled and perfected with the coming of Jesus Christ, and God's deepest identity was shown to be love, how did Christianity solve this problem? How can the all-powerful God who is love still simultaneously be both comforter and punisher?
The answer came in the distinction between God's "active will" and his "permissive will." God is all-powerful, meaning that everything that happens in creation must be approved by him in some way. For all that is good, like existence, life, reason, and grace, we say that God actively wills these things. He expresses his identity of love by eternally and actively creating and sustaining all that is good. Evil, on the other hand, is never willed, desired, or created by God. He merely permits it. We, corrupted and fallen creation that we are,are the source of all evil. God allows the consequences of our evil actions to persist, as a way to preserve the greater goods of rationality and free will, and because he knows he can always bring a greater good from these evils. A God who actively creates the good but only passively allows the evil, according to Christianity, can still be a God of love.
Still, this argument feels legalistic and incomplete. Maybe this argument helps a theologian sleep at night, but shouldn't a God of love actively work against evil, rather than allow it to continue?
Yes, of course he should. But God actively works against evil, not by shielding us from the consequences of our sins, but instead by allowing us to experience these consequences. In other words, God shows his great and infinite love for us by continually brining us to repentance. God must allow us to see the evil we have wrought so that we will turn away from that evil and be converted. Only when we are horrified by the evils of the world are we ready to receive the infinite goodness of God. Only when we have removed sin from our hearts can our hearts be turned to love. Only when their entire world was collapsing around them did the Jews of Isaiah's time understand how necessary it was for them to turn to and remain faithful to the Lord. It is not that the Lord repented of his actions and changed his mind, it is that the Jews, through their own repentance, were finally ready to receive the deeper, comforting gifts of the Lord.
---
This is why St. John the Baptist had to come before Jesus and why the baptism with water had to come before the baptism with the Holy Spirit. This is why a period of tribulation must precede a period of restoration, why the heavens must be dissolved in flames and the elements melted by fire before we can receive a new heavens and a new earth in which righteousness dwells. This is why Advent must come before Christmas.
My brothers and sisters in Christ, repent and then believe in the Gospel! Look upon your sins with the horror and disgust that they merit; allow God to destroy your kingdom and besiege your city. Only after he has broken down your walls, only after he has forced you to confront and make expiation for your wrongdoings, only after the evils and corruptions of your life have been laid bare for you to see; only then can you receive the overwhelming, healing, restoring, love of God. We will all, at some point, be forced to repent for our sins. Better to do it now, when God can still comfort us afterward, than to be caught unaware when the Lord returns like a thief in the night.
Español
Hay, en el Antiguo Testamento, algunos pasajes que hablan del arrepentimiento de Dios, donde Dios hace algo o amenaza algo y luego, más tarde, parece cambiar de rumbo y eliminar su castigo.
Por supuesto, esto es imposible. La naturaleza del único Dios que creó todo y sostiene todo, es la perfección. Para que Dios sea la fuente de todas las cosas, Dios debe poseer en sí mismo la plenitud de la existencia. Y esto significa que Dios no puede cambiar, porque el cambio requiere que Dios haya tenido algo que ahora le falta, o que le haya faltado algo que ahora tiene. Pero Dios es infinito y perfecto, nunca le falta nada. Dios no puede cambiar, y mucho menos cambiar de opinión. Dios no experimenta emoción. Él es amor infinito e interminable, todo el tiempo para siempre.
Sin embargo, allí mismo en la Biblia, dice que Dios se arrepintió y cambió. Las primeras líneas de nuestra primera lectura son así.
"Consuelen, consuelen a mi pueblo, dice nuestro Dios. Hablen al corazón de Jerusalén y díganle a gritos que ya terminó el tiempo de su servidumbre y que ya ha satisfecho por sus iniquidades, porque ya ha recibido de manos del Señor castigo doble por todos sus pecados".
Este es, a primera vista, un pasaje esquizofrénico. Jerusalén ha estado trabajando al servicio, es decir, en la esclavitud para expiar su culpa. No era raro en el mundo antiguo tener que ir a la esclavitud para pagar una deuda. Su señor, Dios, le ha dado el doble del castigo que le correspondía por sus pecados. Y sin embargo, ahora ese mismo Señor quiere consolarla. Quiere hacerle promesas de salvación y buenas nuevas. La imagen del Señor ha cambiado de un señor cruel a un tierno pastor que recoge a los corderos en sus brazos y conduce a las ovejas con cuidado. Entendido al extremo, hace que Dios parezca cruel y manipulador.
---
Entonces, ¿cómo explicamos esto?
Una descripción histórica ayuda. Nuestra primera lectura proviene del final de la primera sección del Libro de Isaías, escrito en los siglos ocho y siete a.C. Isaías vivió en el Reino del sur de Judá y vio cómo Asiria, el poder político emergente de la época, arrasó con el Reino del norte de Israel e incluso puso bajo asedio a Jerusalén, la capital del Reino del sur. Esta profecía es una profecía de esperanza, que reconoce el dolor sufrido por Israel y Jerusalén y promete que Dios mismo vendrá a salvar y consolar a su pueblo.
Sin embargo, no se puede escapar al hecho de que este pasaje, junto con gran parte del Antiguo Testamento, atribuye no solo la esperanza, sino también los males anteriores al Señor. ¿Por qué?
Pues, desde el siglo ocho al seis a.C., la religión judía, guiada e inspirada por el Señor, se fue solidificando en su monoteísmo. Y la primera y más básica creencia de tener un solo Dios es que este Dios es todopoderoso e indiscutible. Lo que significa que, sin ahora poder atribuir el bien y el mal a dos dioses diferentes y en competencia, el bien y el mal deben provenir del mismo Dios todopoderoso. El único Dios debe ser el agente de consuelo y el árbitro del castigo. Pero los judíos también creían, basados ​​en sus siglos de experiencia como el pueblo elegido, que este Dios todopoderoso también era un Dios justo. Así que cuando empezaron a pasar cosas malas al pueblo judío, creyeron que estas cosas malas debían venir de Dios y que debían ser una expresión de justicia. En otras palabras, que todo lo malo debe ser un castigo de Dios por sus pecados. Sin embargo, cuando las cosas buenas comenzaron a suceder nuevamente, esto también debe ser de Dios. Puede ver cómo este problema llevaría a que las descripciones de Dios aparentemente cambiando de opinión.
A medida que la religión judía continuó desarrollándose, este problema del mal y la agencia divina nunca desapareció realmente. Los Evangelios muestran que, incluso en la época de Jesús, se mantuvo la creencia de que la enfermedad o la discapacidad era el castigo de Dios por el pecado personal. Entonces, cuando la religión judía se cumplió y perfeccionó con la venida de Jesucristo, y se demostró que la identidad más profunda de Dios era el amor, ¿cómo resolvió el cristianismo este problema? ¿Cómo puede el Dios todopoderoso que es amor ser al mismo tiempo consolador y castigador?
La respuesta vino en la distinción entre la "voluntad activa" de Dios y su "voluntad permisiva". Dios es todopoderoso, lo que significa que todo lo que sucede en la creación debe ser aprobado por él de alguna manera. Por todo lo que es bueno, como la existencia, la vida, la razón y la gracia, decimos que Dios activamente quiere estas cosas. Expresa su identidad de amor creando y sustentando eterna y activamente todo lo que es bueno. El mal, por otro lado, nunca es querido, deseado o creado por Dios. Simplemente lo permite. Nosotros, la creación corrupta y caída que somos, somos la fuente de todo mal. Dios permite que persistan las consecuencias de nuestras malas acciones, como una forma de preservar los mayores bienes de la racionalidad y el libre albedrío, y porque sabe que siempre puede obtener un mayor bien de estos males. Un Dios que crea activamente el bien, pero solo permite pasivamente el mal, según el cristianismo, puede ser un Dios de amor.
Aún así, este argumento se siente legalista e incompleto. ¿No debería un Dios de amor trabajar activamente contra el mal en lugar de permitir que continúe?
Sí, por supuesto que debería. Pero Dios trabaja activamente contra el mal, no protegiéndonos de las consecuencias de nuestros pecados, sino permitiéndonos experimentar estas consecuencias. En otras palabras, Dios muestra su gran e infinito amor por nosotros llevándonos continuamente al arrepentimiento. Dios debe permitirnos ver el mal que hemos causado para que nos alejemos de ese mal y seamos convertidos. Solo cuando nos horrorizan los males del mundo, estamos listos para recibir la bondad infinita de Dios. Solo cuando hayamos quitado el pecado de nuestro corazón, nuestro corazón se convertirá en amor. Solo cuando todo su mundo se derrumbó a su alrededor, los judíos de la época de Isaías comprendieron lo necesario que volverse al y permanecer fieles al Señor. No es que el Señor se arrepintiera de sus acciones y cambiara de opinión, es que los judíos, a través de su propio arrepentimiento, finalmente estaban listos para recibir los dones más profundos y reconfortantes del Señor.
---
Es por eso que San Juan Bautista tuvo que venir antes que Jesús y por qué el bautismo con agua tuvo que venir antes que el bautismo con el Espíritu Santo. Es por eso que un período de tribulación debe preceder a un período de restauración, por qué los cielos deben consumidos por el fuego y los elementos deben derretirse antes de que podamos recibir un cielo nuevo y una tierra nueva en que habite la justicia. Por eso el Adviento debe llegar antes de Navidad.
Mis hermanos y hermanas en Cristo, ¡arrepiéntete! y luego creas en el Evangelio. Mira tus pecados con el horror y el disgusto que merecen; permite que Dios destruya tu reino y sitie tu ciudad. Solo después de que haya derribado tus muros, solo después de que te haya obligado a confrontar y expiar tus malas acciones, solo después de que los males y las corrupciones de tu vida hayan quedado al descubierto para que los veas; sólo entonces podrás recibir el amor abrumador, sanador y restaurador de Dios. Todos, en algún momento, nos veremos obligados a arrepentirnos de nuestros pecados. Es mejor hacerlo ahora, cuando Dios todavía puede consolarnos después, que ser sorprendidos desprevenidos cuando el Señor regrese como un ladrón en la noche.
Featured Image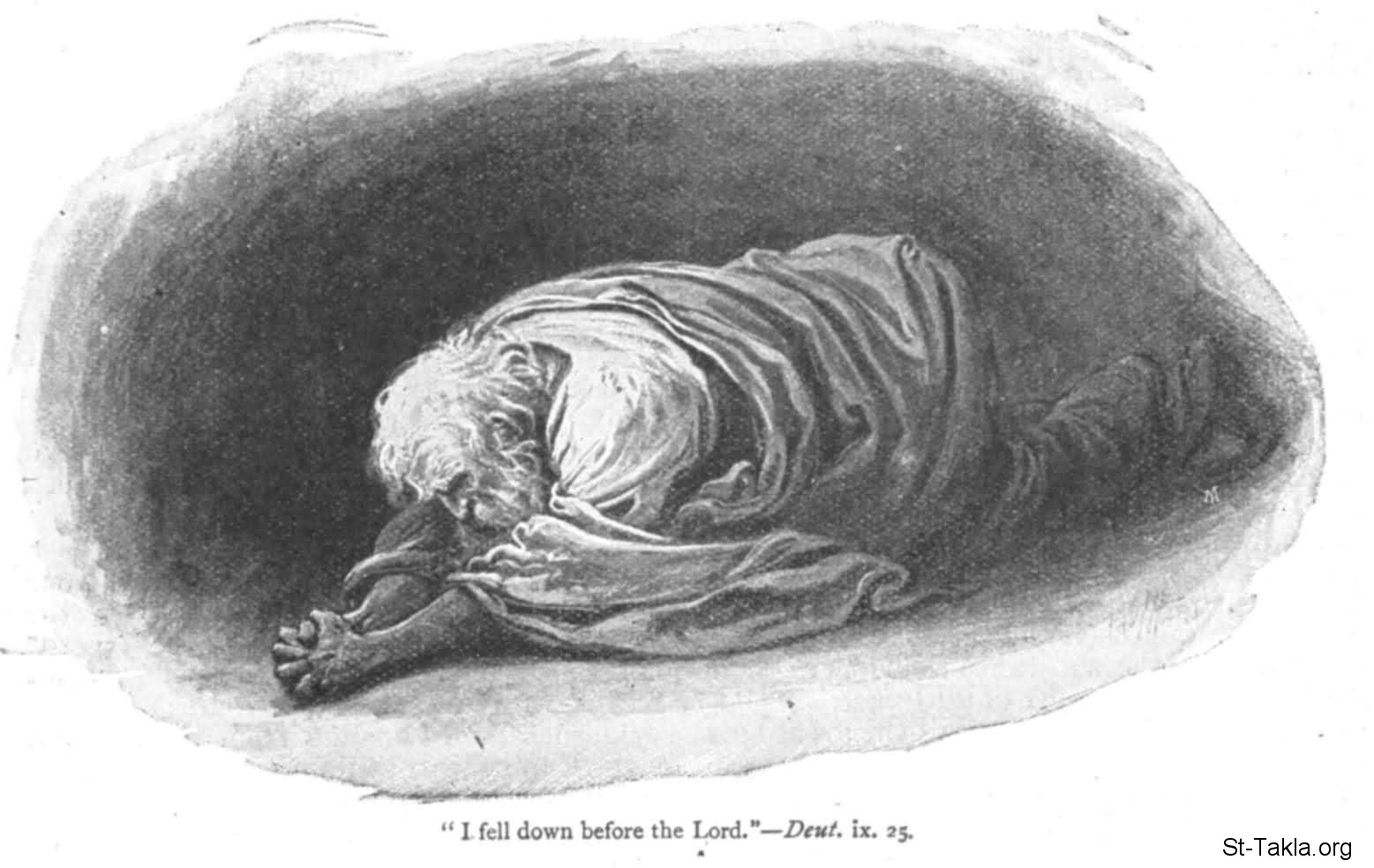 Image found at https://st-takla.org/Gallery/Bible/Illustrations/Black-and-White-Bible-Images/Hardy-Paul/deut-9-i-fell-down-before-the-lord.html